13 February 2023
Xavier Le Page promoted to Partner

Paris, February 13th 2023
It is with great pleasure that Akoya Consulting announces the promotion of Xavier Le Page to Partner.
Akoya Consulting confident in its growth and future
Akoya Consulting is a strategy consulting firm dedicated to People & Organization topics. It supports large French and international groups in their transformation processes.
Thanks to its unique approach combining business strategy, design thinking and data science at the service of people in companies, the firm founded in 2010 is experiencing a strong acceleration in its growth (+31% average annual growth between 2019 and 2022) underlining its alignment with the market's expectations for a more responsible transformation.
"Akoya supports nearly half of the CAC 40 groups in their strategic People & Organization issues across a wide range of industries, from food and beverages to automotive, luxury goods, energy and banking & insurance" says Jocelyn Muret, Partner and co-founder of the firm.
In order to pursue its growth dynamic, the firm continues to strengthen its staff and its areas of expertise and is now expanding its circle of partners, for the first time, with the promotion of Xavier Le Page for the first time.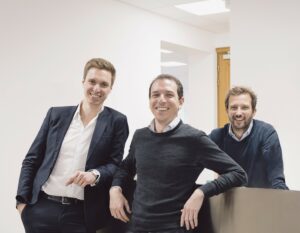 On the picutre: Antoine Aubois, Xavier Le Page, Jocelyn Muret
Xavier Le Page, from Senior Consultant to Partner, at Akoya since 2015
Graduated from ESCP Business School in 2010, Xavier Le Page started his career with the consulting firm Apifrance before joining Akoya Consulting in 2015 as a Senior Consultant.
Since then, he has helped to develop the firm in the distribution, aeronautics and automotive industries with groups such as Adeo, Thales and Forvia.
He is also specialised in the fields of business architectures and skills management, one of the firm's core expertises.
In addition to his operational responsibilities, Xavier Le Page will also take on the role of HR Director of Akoya Consulting.
"Continuing my commitment to Akoya for more than 8 years, I am delighted to be the first to join Antoine and Jocelyn in the firm's team of partners. I am convinced that together we will be able to continue to put our skills and expertise at the service of our clients and continue to grow our teams"
"We have come a long way together since Xavier joined us! We are proud and happy to open with him this new page in the history of Akoya and to continue to improve the human side of the company", enthusiastically states Antoine Aubois, Partner and Co-founder of Akoya Consulting.